Aardman has been an animation mainstay for decades. Its trademark stop-motion techniques wowed audiences with a series of Wallace and Gromit films in the '90s, captivated kids into the new millennium with Shaun the Sheep and Chicken Run, and enraptured generations beyond that with the likes of Morph and Pirates. But, despite its world-class output, the quaint British studio may not seem like the best fit for the Disney-owned, billion-dollar phenomenon that is Star Wars.
Nevertheless, as director Magdalena Osinska tells GamesRadar+, it was Lucasfilm who reached out to Aardman, offering it an opportunity to craft a new story in a galaxy far, far away – as part of the second volume of Star Wars Visions shorts, which are now streaming on Disney Plus.
"They came to Aardman about two years ago. They asked for Aardman to present stories [and] different ideas where Star Wars meets Aardman – that was their brief," Osinska recalls.
After a gruelling pitching process ("I was in the final section of four or five, there was quite a big competition to get it," Osinska explains), it was decided that 'I Am Your Mother' would be Aardman's selection for the Star Wars Visions anthology.
Following fledgling Twi'lek pilot Anni – the name being a clear nod to Anakin Skywalker's flyboy past – as she heads for a family day race at her flight academy, 'I Am Your Mother' digs into rare territory as far Star Wars is concerned: the intimacy of a mother-daughter bond.
Far from being a flight of fancy for Osinska, it was instead an opportunity to tell a story that "hasn't been told that many times in Star Wars."
"When I sat down to write this pitch, I questioned: what do I love about Star Wars?," Osinska says. Her answer, far, far away from the galaxy-ending stakes of Jedi, Sith, and The Force, was a more personal one.
"I love the relationships and, because I'm a mother now myself, the first thing that came to mind was the 'I am your father' line, me being a mother, and wanting to tell the story about a mother-daughter relationship," Osinska explains.
"I wanted this story to be about the relationship between them and, when we are kids, we don't often appreciate our parents and the sacrifices they make. When you're young, you don't exactly appreciate them, you sometimes feel embarrassed. I hope this will be a relatable, emotional piece."
"Someone said we shouldn't be using lightsabers"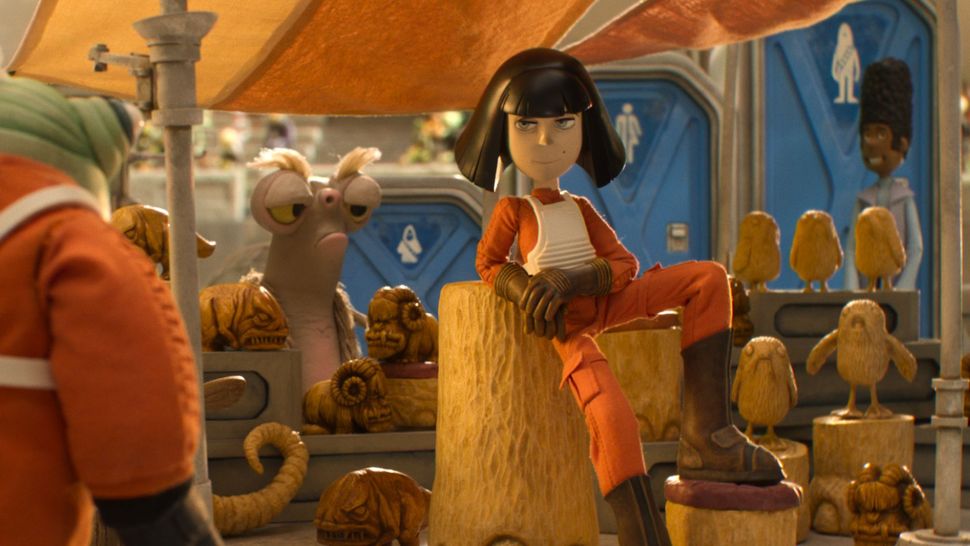 So far, Visions has highlighted many different and unique takes on Star Wars. As Osinska explains, that's due to the freedom Lucasfilm gives to the animation studios – with a few bizarre caveats.
"At some point, someone said we shouldn't be using lightsabers," Osinska says. "I don't know who exactly it came from… but it was a really good limitation. That made us think… We tried to approach this differently to make it feel really Star Wars, but without the obvious things you think of straight away."
"So they give us guidelines about how to design characters, sets and costumes – which was great. I loved it. Things like you don't use bathrooms in costumes [and] I think there was something about not having stairs [so] the droids can go over – that kind of detail that you would not necessarily pay attention to normally," Osinska says.
"It was a brilliant thing to read, but it didn't feel like we had many limitations besides just being mindful of the rules that were set up from the beginning by Star Wars."
Despite the creative leeway afforded by Lucasfilm, they still had – according to the director – a "daunting and intimidating" task in front of them: creating wholly original Star Wars characters.
"We weren't sure if we would be able to use existing [species]. I was very keen on the characters to be aliens, because that was inspired by how I felt moving to this country with my mum," Osinska recalls.
"We started designing combinations that would be a combination of different species because, at the very beginning, we thought we would be unable to use actual Star Wars creatures and characters," the director says. "After one or two feedbacks, that changed and [Lucasfilm] said 'How about you use Twi'leks?' I was over the moon when I heard it because it's this very recognizable and visually interesting species. Then they said there is no limit, you can use our creatures."
Osinska, then, had her mission statement: "We tried to approach this differently to make it feel really Star Wars, but without the obvious things you think of straight away. Each scene has a reference. It has details, props, characters. I was really keen for the Star Wars fans to feel like that there is something to look at pretty much everywhere. Anni's lunch, with her face, is inspired by the polystarch bread [in The Force Awakens]."
Aardman and Lucasfilm, though, appear to be the strangest of bedfellows, the big bombast of sci-fi spectacle at odds with the more measured, sentimental approach of the British animation studio.
That chalk and (Wensleydale) cheese style, however, carries with it more parallels than appears at first glance.
"I saw from the beginning that there were quite obvious things to me [connecting] Star Wars and Aardman," Osinska says. "And that was in the relationships, and that the stories [are] quite often about fish-out-of-water characters and underdogs."
The plasticine, rubber-limbed style of Aardman may have posed a problem for Osinska and her team ("visually it is very different," she admits), but they quickly found common ground in a touchstone from George Lucas' original films.
"I found the link in the original trilogy: there were stop-motion elements like AT-ATs and Tauntauns," Osinska says. "So that got me excited and, in general, the idea of creating the Star Wars universe in stop motion. [I thought]: I'm not going to do the exact kind of Aardman style, I will definitely try and mix the two worlds, to add more texture and detail from the Star Wars universe into Aardman. That excited me a lot."
That, too, extends to the character of Anni – a figure inspired by Anakin and Luke Skywalker.
"She comes from somewhere else, she doesn't fit in," Osinska reveals. "She needs to find this confidence which, in a way, her mum gives her. I think that there is a similar arc to some of the Star Wars characters as well – of this very gifted, young person like Anni."
All wings, report in
Despite the inherent freshness of the short, one familiar face does pop up – in the form of hotshot pilot and Resistance hero Wedge Antilles (voiced by original actor Denis Lawson, no less).
"I wanted a character like a pilot hero that Anni can look up to, some kind of celebrity who she thinks is an amazing pilot. She forgets it's her mum that taught her, so she's the hero as well," Osinska explains.
While other options were considered ("we were thinking about Hera as well, but because she was Twi'lek as well, we thought it didn't work," Osinska admits, referring to the character set to be portrayed by Mary Elizabeth Winstead in Ahsoka), the team landed on the "right fit" – with the added bonus of Lawson reprising his role from the franchise
"When they said we could work with the same actor, it was just amazing," Osinska says.
One of the joys of Visions is seeing various – you guessed it – visions come to life from creators who may not otherwise have had a chance to tell a story in Tatooine or come up with a fresh take on Coruscant. Osinska is a Polish director working at a British studio, while animation teams from France, Ireland, and Korea all contributed to the second anthology collection.
'I Am Your Mother' marked a major opportunity for Osinska. Having worked with Aardman on smaller projects ("I've been doing quite a lot of commercials and very short shorts – one, two-minute films. I started doing some development stuff in features as well, but I've always wanted to do longer form," she reveals), this step up to the big time led to the crescendo of a warm and welcome response at this year's Star Wars Celebration event.
"It's incredible, it's overwhelming. It's like a dream come true, honestly it is. Seeing my name at Celebration, it was the first time I saw it with the full credits coming after George Lucas. It was very emotional."
While Aardman may stick to its own creature comforts in the future – a Chicken Run sequel is hatching later this year on Netflix – its rare foray into a big franchise proves that Star Wars' future doesn't have to lie only in big-budget blockbusters. Sometimes, it can just be about a mother, daughter, and a flight to remember.
---
Star Wars: Visions Volume 2 is out on Disney Plus now. For more from a galaxy far, far away, check out our guide to upcoming Star Wars movies, plus a look at the complete Star Wars timeline.